Case Study: Large Scale e-Learning
Revolutionising Scouts Adult Leader Training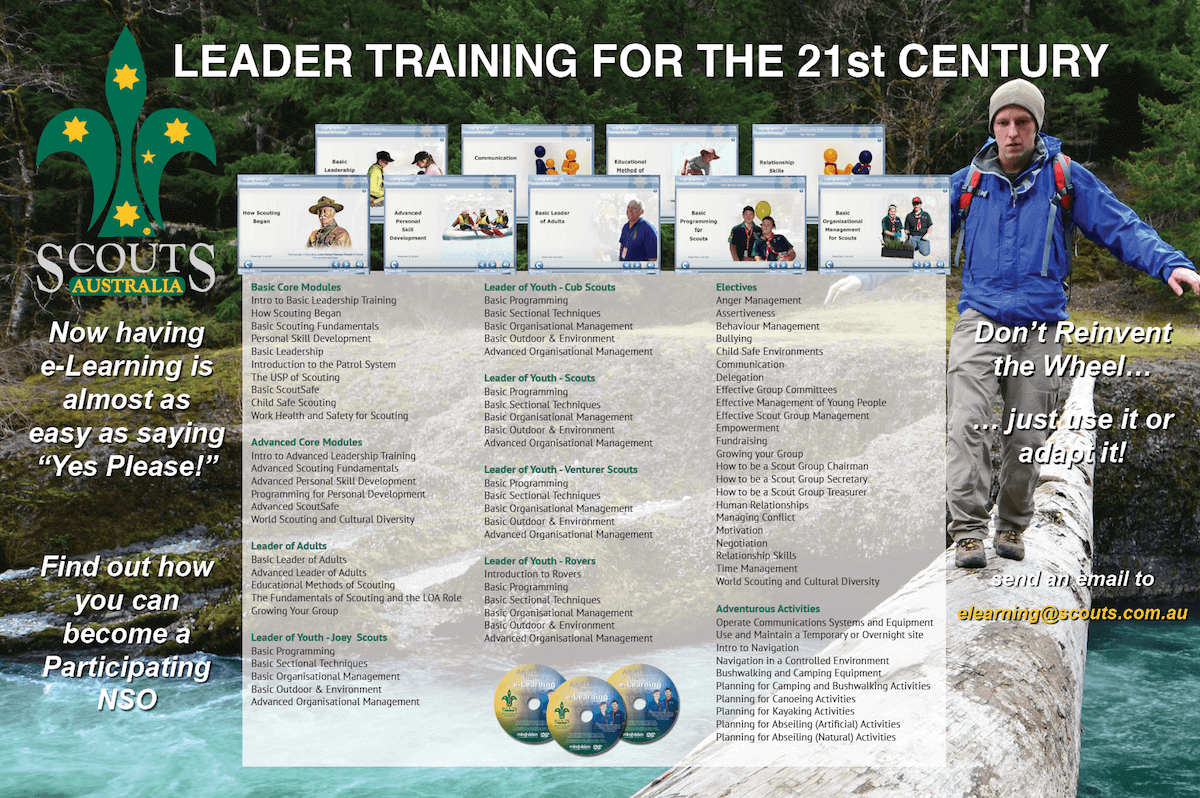 THE BRIEF…
In 2007 Scouts Australia approached MindVision with a bold and ambitious project to develop Scouts' comprehensive adult leadership training program as e-Learning. The result had to be engaging, as effective as face to face training and must work offline as well as online to support remote Australia.
DEVELOPING A SOLUTION…
After three years of development, the new e-Learning underwent controlled trials to verify its effectiveness. The trials found that trainees using what MindVision had developed understood the material as well or better than those who had been trained in the traditional way. E-Learning for Scouts adult leader training was rolled out across the country in 2011 and immediately greeted with enthusiasm and appreciation by trainee leaders, trainers and administrators.
Four years may seem like a long time to develop online training – and for many organisations it would be. However, the scope of training was huge – over 35 modules initially. There was nothing to be gained by launching with just a few modules it was "comprehensive or not at all".
Especially significant was MindVision's approach to the project. MindVision felt that existing e-learning tools could not meet the vision for engaging delivery. The MindVision team analysed Scouts face-to-face training methods which are strong on "learning by doing". Ten different trainee engagement techniques were identified from brain storming to interactive lectures to pop quizzes. MindVision then developed virtual forms of these learning interactions for use within any training module. As a result, trainees hailed the new e-Learning as "so much better than what we have to do at work". It is no accident that the e-Learning is even more effective than classroom delivery. Well-crafted interactions to engage the user and solidify understanding make a huge difference.
MindVision developed not just the training content but the authoring tools and learning management system for delivery. It is impossible to predict where technology will go in the future, but to have to re-author a hundred learning modules in a new tool would be cost prohibitive. MindVision's SELMA (Smart E Learning Module Authoring) captures the material and then feeds it through a generation engine to create learning modules ready for the user. When technology changes, the engine simply has to be refurbished and the modules regenerated. Still a big job, but a fraction of the effort and cost of re-authoring the module content.
Our unique approach was put to the test in 2015. The original publishing platform was Adobe Flex (Flash) for multi operating system compatibility. MindVision redeveloped the engine to seamlessly generate all of the existing modules onto a HTML5 platform to become compatible with iPads and other tablets. Remember that the iPad didn't exist in 2007 when the project first began!
The project doesn't stop at creating e-Learning modules. Online leaning requires a Learning Management System (LMS) to keep track of trainees, training completed and training outstanding. Further complexity is added by there being four different membership systems in use by Scout Branches across Australia. On top of the LMS, MindVision developed APIs to synchronise member data from various state systems and to training completion data back to the states.
Development of new learning modules is a never ending task as Scouts seek to broaden the scope of their training and to ensure best practice for child protection, safety and WHS. The total module count today is over 80 and Scouts Australia's e-Learning is recognised internationally as the absolute best in the Scouting world (over 160 countries).
I've completed the e-learning. I knocked it over in about 2 weeks. I must say that I was very impressed by the material – there is an excellent module on leadership that is better than nearly anything I've seen in corporate life.
The system was reliable and worked well, and progress through modules was recorded (so I could knock them over in short bursts, rather than long blocks of time).
I have just completed the 3 new E-Learning units, and may I say, I feel that the standard of them was exceedingly good.
The Advanced Scouting Fundamentals made some very good points and the Leader of Adults (Basic) is sooooo comprehensive ….. just brilliant !
I receive overwhelmingly positive feedback. Most people are really happy about the amount of time they save being able to do it at home; they find it really easy to go through the training.
It seems that most of our trainee leaders have whizzed through it in under 2 weeks, so they enjoy that as well as it fits in better with their time, family and work obligations.
Want to know more?
Want to know more about this massive e-Learning project? Watch this 20 minute video prepared for the World Scout Conference in Ljubljana, Slovenia 2014.